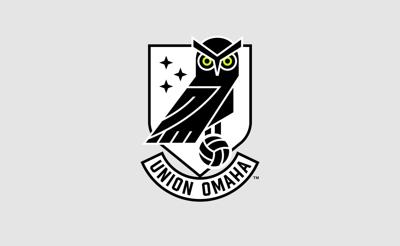 Diving into the marketing of sports for a minute, check out the article in the Athletic about the new USL team in Utah and their brand development. They took a "know your fans" approach as they developed their brand and logo.
"For baseball fans, the game is the backdrop," Green said between meetings at the USL Winter Summit in Orlando. "I always say that if one of our fans could walk out of the game and they don't know who won, it means that we've done our job in entertaining them. For soccer, it's all about a social environment, a tribal environment — not telling the fans what to do, and making sure the supporters are always the plug in the socket that electrifies the entire stadium. You can help, but if you do too much, then you overstep and that's a whole different thing."
From the article in The Athletic about the new soccer team in Omaha. The photo below is from the article.
The team was named via a poll, which is another great way to engage your fan base and then the logo was designed by Mathew Wolff who has ties to the Midwest and has done similar work around the league.
"Matt's creative influence throughout our league has been huge," said USL vice president of communications Ryan Madden. "He's obviously a world-class designer, but more importantly he has an intuitive understanding of how soccer clubs can interact with their community in cool new ways. Everything he touches is better for it. Union Omaha is a good example of that."
Finally, despite the ownership's ties to baseball they worked hard to create a brand that was specific to and resonated with soccer fans.
It seems to be working.
Read the article at The Athletic. Not a subscriber? Subscribe here–worth your time.
If you are interested in sports marketing this is one of the most interesting reads out there. A tremendous character, but also a creative thinker and sports innovator.
Another quick recommendation: Blogger's guide to loyal readers.